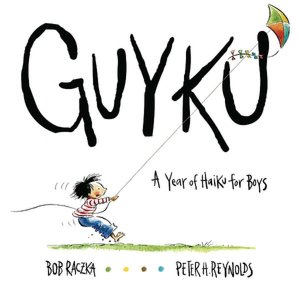 Image from BarnesandNoble.com
This collection of 24 haikus is divided into sections for each of the four seasons, starting with spring and ending with winter. As Racka points out in his author's note, haikus are written in present tense and all of the poems in this book feature present tense activities. Reynold's simply colored illustrations show the boys in this collection in constant motion; they fly kites, climb trees, rake leaves, and have icicle sword fights. As well as being concise and clever observations, many of the poems conclude with a snappy punch line.
"Pine tree invites me
to climb him up to the sky.
How can I refuse?"
Reynold's multicultural cast of boys is wonderful. By turns mischievous, playful, thoughtful, and serious, the boys celebrate the joys of nature and boyhood. For each season Reynolds has chosen a single color to augment his simple color palate of browns, blacks, whites, and grays. For instance, summer uses a sunshine gold, while winter is surrounded by cool blue reminiscent of shadows on a snowy landscape. The poems are delightful as a collection, but also stand well on their own. Together the poems create a tapestry of the season, but read alone a single poem captures a moment in that seasonal time.
Although the poems are geared towards young boys, they can be enjoyed equally well by girls. Read the entire book cover to cover for an introduction to the haiku form of poetry. Alternatively you can use selected poems as transitions during a seasonal storytime.
The Guyku website is wonderful. Check out the
tips on writing guykus
and then encourage your boys to write and illustrate their own haiku to join the
Guyku Club
. And don't worry if you're a girl, you can still join the Guyku Club by writing a
galku
.
Show the kids these meet the author/illustrator videos that feature
Raczka
and
Reynolds
talking about the reasons for creating Guyku. Raczka's interview closely follows his author's note at the back of the book. Reynolds covers the topics in his illustrator's note, but he also includes more insight into his work and motivations.
-Amy