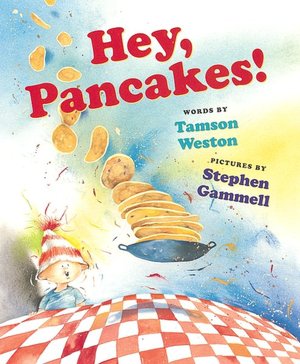 Image from BarnesandNoble.com
There's nothing like a stack of pancakes covered in butter and syrup to make getting out of bed easier in the morning! The three siblings in this story cook up a pancake storm with a "sift, stir, whir, whisk." They don't just cook and eat the pancakes; they celebrate the wonderfulness of pancakes with snappy rhymes and exuberant joy:
"With a little dab of maple behind each ear,
go out in the world and give a pancake cheer!"
Weston's rhyming text is more like a chant or cheer, with lots of exclamations, "Shazzam!" "Holy Cow!" Gammell takes the text and runs; there's no end to the imaginative ways the kids cook and eat pancakes. They cook pancakes in different shapes, flip them through the air, eat them with syrup and jam and berries, and even stash a few in the basement (for later). The illustrations are colorful and chaotically joyful. Splatters of color (or maybe pancake batter?) adorn each page, as the round-faced, button-nosed children eat pancake after pancake.
If you have access to a kitchen, the most natural thing to want to do after reading this book is to make some pancakes. Luckily, Weston and Gammell have included a recipe for Grandma's Pancakes in the back of the book. Make round pancakes and have kids make pancake faces with jam, berries, and any other toppings you can scrounge up. Or make pancakes in different shapes and take turns saying what you think it looks like.
Most of the pancakes in the story are round (or round-ish), so use this book for a storytime about circles. You could use books about other round foods, such as
The Duckling Gets a Cookie!?
by Mo Willems, or just circles in general, like
Press Here
by Herve Tullet. Use some round potholders and have a
pancake toss
, instead of a water balloon toss.
Make some pancakes out of cardboard and practice counting, addition, and subtraction. Ask kids how many pancakes they'd like to eat, have them count that number onto their plate. Then ask them how many pancakes they would have if they ate 2 or if you gave them 3 more. If your kids really get into the counting, see if they can count all the pancakes in the book!
-Amy