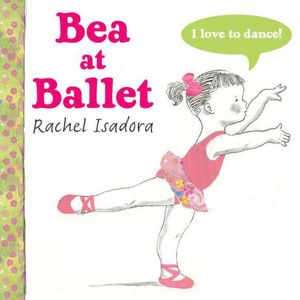 Image from BarnesandNoble.com
Bea loves to dance and she especially loves her ballet class. She puts on her tights, pink leotard, and ballet slippers and steps into the studio with her friends. The book follows the preschoolers through their class from circle time, through the five positions, to bowing, or reverence, at the end of class. Bea and her friends show the reader the different ways dancers move their feet, from point to flex to relevé, as well as a few other steps, such as arabesques and attitudes. As Bea leaves the studio, she turns to wave, "See you next week!"
Through this book Isadora, a former dancer, shows children what to expect from ballet class. The text is simple and printed in a large and round font. The children add their own comments to the story in colorful speech bubbles. Isadora takes care to label items and movements so that children learn the correct terminology. I especially love the pages that show the clothing Bea and her friend, Sam (a boy), wear to class. Set against a simple white background the leotards, tights, and other attire provide the color in the pen and ink illustrations. The 3 boys and 6 girls in the class, from a variety of ethnic backgrounds, perform the movements at differing levels of expertise and with childlike enthusiasm. Through it all, Isadora, as well as Bea's love of dance is evident.
If your child is starting ballet class soon, this is the perfect book to introduce them to the format and conventions of class. The children in the book are playful, yet respectful of their teacher, Ms. Nancy, the pianist, Mr. Paul, and the class as a whole.
You can also use this for a ballet or dance themed storytime. Try pairing it with
Brontorina
,
Rap a Tap Tap: Here's Bojangles - Thinkof That
or
The Twelve Dancing Princesses
(I like the version retold by Brigette Barrager). Get the children up to try the positions and movements mentioned in the book. After you read the book, turn on music and clap along to the rhythm as kids do in the book. And, of course, pull out that box of scarves and let the kids dance!
Have kids draw pictures and label the clothing they wear to class or another group activity (such as soccer, swimming, or even storytime). There are no wrong or right answers to this activity. If kids have a difficult time getting started, ask them questions like, "What kind of shoes do you wear?" or "Do you wear a hat for this activity?"
If you want to follow up with a craft, try making these
ballerina finger puppets
. The puppet slips onto your fingers and your fingers become their legs. To make this craft faster, pre-cut the dancers. You may want to provide a child size and adult size puppet since children have much smaller fingers than adults.
-Amy