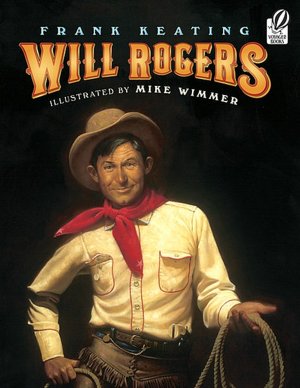 Image from BarnesandNoble.com
This beautifully illustrated picture book biography captures the spirit, as well as the depth and breadth, of Will Rogers, legendary comedian, entertainer, actor, pilot, politician, and philosopher of the early 20th century. The book begins with Will's humble beginnings on his father's ranch in Oklahoma and ends with an illustration of a newspaper clipping of the plane crash that tragically ended his life. The pages between briefly touch on the many aspects of Will's life, from his love of learning to his love for his wife and children, from his passion for aviation to his ability to connect with all types of people and make them laugh.
The text, just a few lines per page, provides a sketch of the man, rather than a detailed history of his life. There are no dates or years in the text, however each page does include a quote from Rogers. The text is presented as typewritten notes on the left side of the page with detailed photo-realistic paintings on the right side of the page. Some illustrations are based off of famous photographs of Rogers, while others come from Wimmer's imagination.
The only thing I would add to this book would be back matter with more information about Rogers, such as a chronology timeline of his life and a further reading list. However, the author does include a short bibliography of quotation sources on the copyright page.
Use this book as an introduction to Rogers for kindergarten through 2nd grade kids or as a teaser to kick off more in-depth research on Rogers' life for upper elementary or middle school kids.
For more information about Rogers' life, as well as photographs, quotes, and more check out the website for the
Will Rogers Memorial Museums
in Claremore and Oologah, OK. The museum also provides a link to the PDF of their
kids scavenger hunt
. Although the information is meant to be discovered in the museum exhibits, many of the questions and answers will be of interest to kids.
In 1929 Will Rogers ran for U.S. President, so this book can be a great tie in to a social studies unit on American politics. Check out the
Will Rogers & American Politics lesson plan
meant for 4
th
grade and up.
You must have a login to see the teacher materials, but the interactive student materials are available to the public.
Watch Rogers in this excerpt from the silent film,
The Ropin' Fool
, to get an idea of his mastery of the lasso. It's harder to twirl a rope than you might think (trust me, I've tried). Check around your area to see if there's a lasso artist willing to perform for your group. If kids want to try it themselves, make sure each child has plenty of room so you don't end up with rope injuries.
Rogers' life was celebrated in the Broadway musical,
The Will Rogers Follies
, which features a great song based on one of Rogers' famous sayings,
Never Met a Man I Didn't Like
. Play the song for the kids and talk about the different kinds of people mentioned in the song or even better, teach the song to the kids. The
finale version
includes more verses.
-Amy