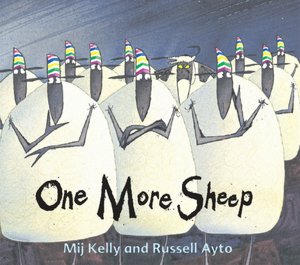 Image from BarnesandNoble.com
It's a wild and windy night, so Sam brings his sheep inside to sleep. He knows he has 10 sheep and he knows he should count them all, but when he gets to 4 he falls fast asleep. It's really too bad that happened to Sam because there's also a wolf who lives on the moor and pretty soon he's dressed like a sheep and knocking on Sam's door. The 10 sheep know he's not one of them, but Sam isn't sure because he's never able to count the sheep without falling asleep! Will the sheep be able to convince Sam before he let's the wolf in the door?
The watercolor, pen and ink illustrations are angular, full of stripes, lines, and plaids. Ayto uses a pattern of overlapping squares to represent the moors, as well as the quilt on Sam's bed. The rhyming text rolls off the tongue with ease. The indignant sheep frequently add their own two cents to the story. Their vocabulary shows they aren't just dumb and boring sheep; they use words like, "uncouth" and "appalling." The layout of the text is notable as well; the narrative says in nice, neat lines, but the dialogue from the sheep criss-crosses the page.
This book is great for a storytime because there's just enough counting to engage the kids, but not so much that the story becomes tedious. If you're reading the story at home, you could stop to count all 10 sheep on nearly every page.
Play a game of Hide and Sheep. Have one child be Sam and the others hide as the sheep. If you have a large group, set a timer to see how many sheep can be found in 5 minutes or stop when Sam finds 10 sheep. I also like the idea posted on the Vote For Books wiki to create an
accordion book to count the 10 sheep
.
-Amy