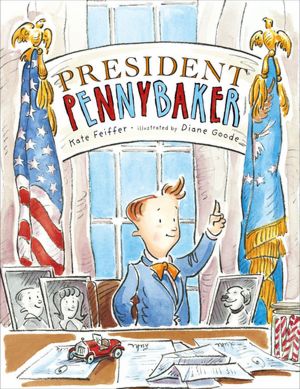 Image from BarnesandNoble.com
It all started because Luke Pennybaker wanted to watch TV and his father wouldn't let him. Luke realized life was unfair and he decided to become president so he could do whatever he could to change that. And that's how Luke Pennybaker became the youngest boy ever to run for president. He campaigned from coast to coast and he answered questions from the press. And even though he wasn't old enough to vote in the election, Luke Pennybaker, and his VP, his dog Lily, won by a landslide! But what happens when being President isn't exactly what Luke imagined it would be like?
Feiffer's text is perfect for a read aloud and kids will identify with the unfairness that Luke Pennybaker encounters as a child. There's a humorous style to the writing as well, which children and adults alike will enjoy. The watercolor illustrations set the story around the 1920's or 1930's. There are old cars, TVs, and telephones. The orange and blue theme that runs throughout the book helps to tie the illustrations together.
Pair this book with
Madam President
by Lane Smith for a Presidential election unit. As both books address the somewhat complex idea of the presidency, it is best to share them with an elementary school aged group.
This is also a good book to read if your school has class president elections. Even if your class doesn't, have a mock presidential election. Encourage all students to write their own campaign speech. What things would they change? What would they promise? Would they have a slogan? Who would their vice president be?
After you read the book pull out a U.S. map and find all the states mentioned in the book.
Check out this
book trailer
for a look at the illustrations.
-Amy