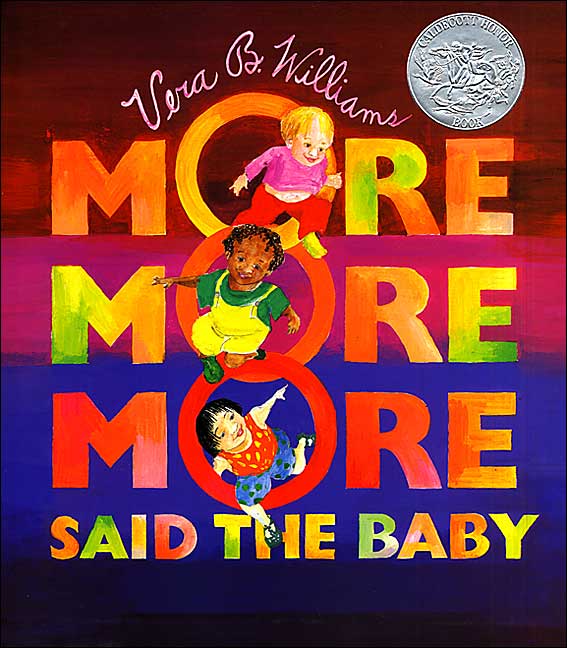 Image from BarnesandNoble.com
Each of the three very short stories in this picture book for babies and toddlers features a charming baby and a caring adult – a daddy, a mama, a grandma. Blonde-headed Little Guy runs away from his daddy, only to be thrown up in the air and then kissed right in the middle of his belly button. Little Pumpkin scoots down the hall, but Grandma is faster and she scoops Little Pumpkin up to kiss his toes. And then there's Little Bird, who falls asleep so fast Mama catches her just in time, rocking her into bed with a kiss on each sleeping eye.
Each story in this Caldecott Honor Book repeats the same structure, making kids feel comfortable and safe. The positive text uses repetition of phrases and the babies are praised for just being their wonderful selves. The painterly illustrations are bright, with visible brush strokes adding texture and movement to the page. Williams uses a multicultural cast of babies and adults to create an atmosphere of acceptance and love. I especially love that African-American Little Pumpkin has a grandmother with bright blonde hair.
This is a fun story to read at a lapsit or toddler storytime because there are lots of places for parents to catch, kiss, and otherwise interact with their child. The other nice thing about this book is that if you feel the reading is getting too long you can easily end it after the first or second story. You could even stop between stories to do a rhyme or song, like
Say, Say Oh Baby
(to the tune of Say, Say Oh Playmate) or
Two Little Hands
.
Check out the
parent's guide
written by King County Library System, which includes tips for sharing this book with your baby, as well as rhymes and discussion topics.
-Amy