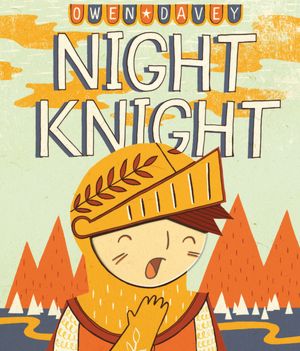 Image from BarnesandNoble.com
Knights, even this small one, know that going to bed is an adventure. This young knight knows that you have to be careful of alligators while brushing your brush and that your armor and other valuables must be put away before climbing the tower into bed and falling asleep next to your trusty steed. Night knight!
This short and sweet book is great for a toddler or preschool audience. The pages are full up with castles and dragons, armor and animals, with just a few words describing actions per page. The digital media illustrations stylishly render the boy's world in mustard-y golds, burnt reds and oranges, and creamy ivory. The flat images are simultaneously reminiscent of medieval tapestries and 21st century graphic design. Light and dark are emphasized in many of the illustrations. The book begins with the sun shining brightly off the knight's armor and finishes with a full moon floating above his bedroom.
If you are reading with a small group, have the kids look for the details in the illustrations. Look for the objects that keep the boy's imaginative adventures ever-so-slightly grounded in reality, such as the closet door in the mountain, the sink faucets in the alligator's lagoon, and the sandwich in his chest of treasures.
Other elements to look at during subsequent readings include finding all the animals cleverly incorporated into the illustrations. I found an owl, a fox, cattle, a ladybug, a crab, a turtle, just to name a few.
-Amy