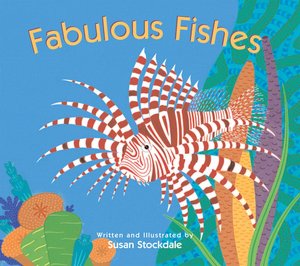 Image from BarnesandNoble.com
This nonfiction picture book features beautifully layered color illustrations of nearly 30 fishes. Each page features a single fish with just a few words. The rhyming phrases are the glue that holds the anatomically, vibrantly true to life illustrations together.
"Fish that swim in numbers,
fish that swim alone.
No matter what they look like, they call the water home."
I recently heard Stockdale speak at the American Library Association Conference and was impressed by her dedication to research and accuracy when creating her nonfiction books. Back matter includes thumbnails of each illustration with the name of the featured fish, what body of water they call home, and a brief sentence about their habits or attributes and a list of books for further reading. She spent many years working in textiles and her love of pattern and colors is apparent in her illustration style.
The great thing about this book is that it can be shared quickly by simply reading the text and admiring the illustrations or it can be drawn out to include information about the environments, habits, and attributes of each fish. Have a world map on hand to point out the bodies of water.
Read this book at the beginning of a unit about fish and then have children choose a fish from the book to study. Send them on a "scavenger hunt" to find out what they eat, what their predators are, and where they live. Have them examine the illustrations, are there clues in the pictures?
Peachtree Publishers created a
reader's guide
with great discussion questions to talk about before, during and after reading this book. Additionally, the guide has ideas to use this book with a variety of subjects, from math to social studies.
There are a plethora (I've always wanted to use that word!) of kid-friendly fish crafts out there. One of the most common is the paper plate fish, which can be
fancy
or
plain
. I also like this
paper cup fish
with a flipping tail. For more ideas search for "fish crafts" on Pinterest.
-Amy