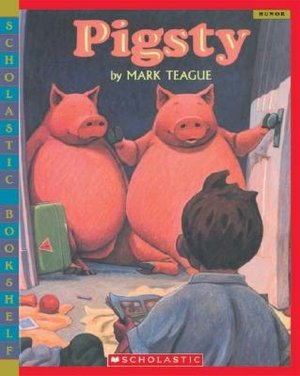 Image from BarnesandNoble.com
Wendell Fultz's room was a mess. His mother said it looked like a pigsty, but nevertheless Wendell was surprised when he walked into his room and found an actual pig on his bed. He didn't mind the pig and the pig didn't mind him and neither of them minded the mess, so Wendell didn't bother cleaning it up. The next day, Wendell came home to find two pigs in his room and they had a grand time. But then two more pigs showed up and Wendell started noticing things; his comics had hoof prints and his baseball cards had chew marks. What's a boy to do?
The text of this tongue in cheek book is short and action-packed. The font is large and the vocabulary easy enough to make this a nice book for beginning readers. The illustrations are colorful, with a great sense of depth and space. Some illustrations take up a whole page, while others are set off against the white background of a clean page.
Before you read this book, ask the kids to help you define "Pigsty." Look at the cover, does it give you any clues to what's going to happen in the book? After you read the book, ask the kids if they would want to live with a real-live pig. How about 2? What about 4?
Save up your cardboard egg cartons and make
egg carton pig snouts
. Make the craft faster by pre-painting and cutting the egg cartons into individual snouts. If you want to go for the full pig experience, make
pig ear headbands
, too!
-Amy