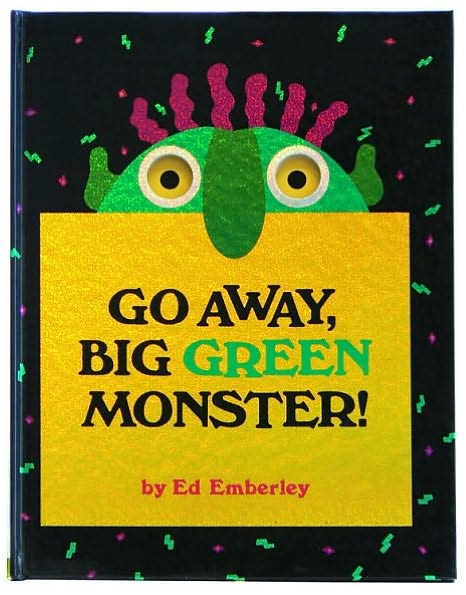 Image from BarnesandNoble.com
The Big Green Monster has two yellow eyes, a long bluish-greenish nose, and two little squiggly ears. As you turn the pages of this book the die-cut paper gradually brings the big green monster to life. But don't worry, the Big Green Monster doesn't scare you because you can turn the pages and watch as the monster disappears feature by feature, "Go away, Big Green Monster!"
Emberley uses simple and colorful shapes and die-cuts set to create the kind of scary, kind of silly Big Green Monster. The first half of the book has illustrations set against a glossy black background, while the second uses a variety of bright colors to highlight each vanishing element. The text is very short and descriptive, just a few words per page. The colors and body parts introduced in the first half of the book are repeated in the second half as the reader is encouraged to shout, "Go away!" to each feature.


Use this book for a monster storytime and pair it with another book by Emberley,
If You're a Monster and You Know It
. It also fits nicely into a Halloween or color themed storytime. This story is also fun to tell using a
flannelboard
to make the monster appear and disappear.
I recently discovered the
Big Green Monster Song
, which is very repetitive and easy for kids to pick up. It also has verses about a scary witch, a black cat, and other Halloween characters. I especially like the little boy in the blue jeans in this video. His enthusiasm makes my day!
Cut out shapes in a few different colors for each of the monsters features and have children paste them to a black piece of paper. Encourage parents to engage their children in a discussion about the different colors and features in their monster and compare it to the Big Green Monster. You can also paint the monsters or make them out of paper plates. Google "Big Green Monster Activities" for a long list of variations.
-Amy