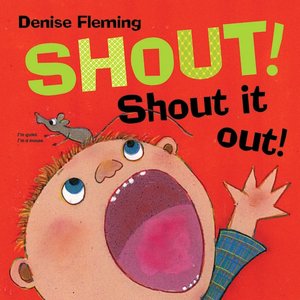 Image from BarnesandNoble.com
The teacher, school children, and even the mouse in this book encourage readers to "Shout! Shout it out!" Beginning with numbers and the alphabet and moving onto colors, animals, and vehicles, this concept book will encourage kids to shout out everything they know.
The text of this book was clearly written to be read out loud with the help of children. The letters, numbers, colors, etc. are printed and drawn in large colorful type and the frequent refrain of, "Shout! Shout it out!" is lots of fun to yell out. The illustrations, created by pulp painting and mixed media techniques, have a wonderful texture to them and are every color of the rainbow. The multicultural cast of shouting children, each with their mouth wide open, are invested in the shouting game one hundred percent.
This story is great when you have an active or noisy group of kids. The final pages of the book include all the words shouted throughout the course of the book and it's fun to try to shout them all out together.
The Flannel Friday blog author has turned this book into a colorful and fun
flannelboard
. It's definitely one that I'm putting on my flannelboard to-do list.
Several reviewers mentioned the chant or cheer like quality of the text, which made me think it would be lots of fun to make
pom poms
to go with the book. I would suggest having the tissue paper preshredded if you're doing this craft with a group so that you don't have lots of little ones with scissors and you won't have so much paper all over the ground.
-Amy