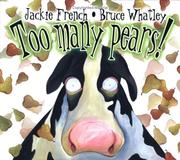 Image from OpenLibrary.org
Pamela is a cow who likes pears. She likes them a lot. She'll eat them fresh or cooked, stewed or baked, red or green or yellow or brown. Unfortunately, she's eating all the pears on the farm! Amy and her grandparents, who run the farm, are at their wits end. They tried tying Pamela to a tree, but she uprooted the tree. They tried fencing her in, but she dug herself out through a wombat hole! Finally, Amy gets the idea to serve Pamela a pear feast. Pamela eats and eats and eats until she's eaten so many pears she's queasy. The next day Pamela can't stand the thought of another pear…good thing she's spied an apple tree!
The text is printed in large font and the short sentences move the story along quickly. I love alliteration and there's plenty in this story about pear loving Pamela. The painterly illustrations feature wonderful facial expressions, from humans and cows alike, and are set against a clean white background. Although Pamela doesn't say a word, you can get a pretty good idea from the expressive illustrations.
After you read the book, ask the kids what words rhyme with pear. You can also talk about alliteration and come up with more fruit-name combinations. Perhaps Walter is a walrus that loves watermelons.
-Amy