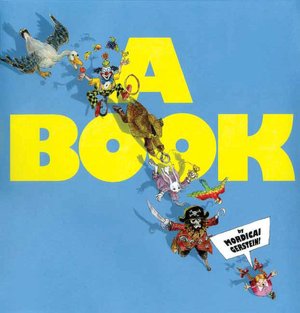 Image from BarnesandNoble.com
Once upon a time there was a family that lived in a book. Everyone in the family, including the cat and the dog and the fish, knew exactly what their story was and in the morning they each went their way. The mother went off to fight fires and the father rode off on his unicycle to be a clown, but their daughter didn't know what her story was, so she went to the next page to find it. On her search she encountered all sorts of characters and genres, from fairytale characters to pirates, from historical novels to mystery stories, but none of them were her story. Will the girl find her story and what will it be?
This clever book, fun for an upper elementary school audience, is full of sight and word gags. The illustrations are detailed and drawn from a unique perspective, as though the reader is looking down at the characters on the page. The text is mostly speech bubbles, which makes all the dialogue from so many characters easy to read and distinguish.
This is a great book to use when introducing the idea of genres because the girl goes through so many throughout the book. After you read the book, have the kids write their own story for the girl. Does their story belong in a specific genre? Does it incorporate ideas from many genres?
-Amy