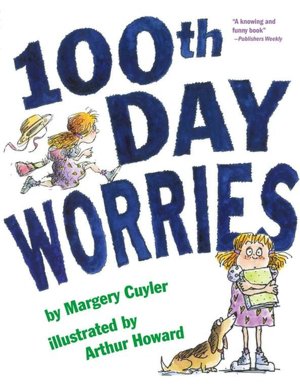 Image from BarnesandNoble.com
Before I start reviewing today's book, I want to take a moment to celebrate because it's day #183, which means I'm officially halfway through the year and this challenge! It's amazing how 6 months can feel like decades and minutes at the same time. Now onto today's book.
Jessica worried about everything, from being late to losing her lunch money. So she was particularly worried when her teacher announced that Friday would be the 100th day of school and that each student would have to bring in a collection of 100 things to be displayed in the hall. Bobby brought peanuts and Sharon brought paperclips, but even on the morning of the 100th day Jessica didn't know what to bring. Luckily, Jessica's family came to the rescue and Jessica's collection was memorable and very special.
The third-person narrative of the text cleverly incorporates numbers and counting without being didactic or boring. The colorful loose line drawings support these mathematical ideas by showing each child's collection in sets of tens, twenties, etc. Although the illustrations can be busy at times, the pages with objects to count have simple backgrounds, making it easy to distinguish each object. I also like that the illustrations are large enough to share with a group.
If you have time, gather the 100 objects in Jessica's collection and display them as you read. Have the kids help you count them. Follow up by asking kids to bring in a collection of 100 items, just like Jessica and her classmates do in the book.
This is a great book to share when kids are learning their multiplication tables because there are opportunities to count by tens, twenties, etc. After you read the book, go back to a page that shows one of the kids and their collection. If Bobby had to bring in 200 peanuts, how many bags would he need?
-Amy