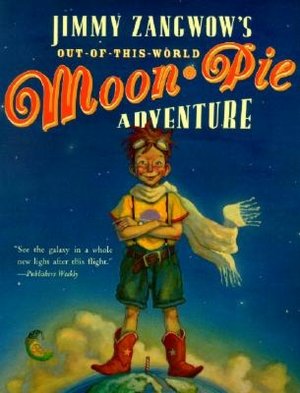 Image from BarnesandNoble.com
All Jimmy Zangwow wanted was some milk and a Moon Pie, but his mother said no, it would ruin his dinner. So Jimmy went outside to sit in his secret project and suddenly it began to fly into outer space! Jimmy adventures took him to the Moon, to the Milky Way, and to Mars where he met the Mars Men and the grumbling, rumbling, Grimble Grinder. Does Jimmy get to eat a Moon Pie? And, more importantly, will he make it home for dinner?
DiTerlizzi's painterly illustrations are reminiscent of a Norman Rockwell painting, if Rockwell had ever painted a red haired boy in cowboy boots talking with aliens. The book is fast paced; no sooner does Jimmy figure out one solution than the next obstacle presents itself. The text races along as well, with nonsense words mixed in with real words, "this junk jumbilee jalopy will never fly…"
After you read this book, ask the kids if they think that Jimmy really flew into outer space. Do you think it's an adventure Jimmy had in his imagination?
If you have the budget, and kids who aren't allergic, serve Moon Pies and milk after reading the story. You can turn this into a mini-math lesson about fractions by cutting the Moon Pies into halves, quarters, thirds, etc.
Pair this book with
Earth to Clunk
for a Sci-Fi or outer space themed storytime, sure to be a hit with kindergarten and elementary school aged boys. Many libraries this year are using the Summer Reading theme, "Dream Big," and this book fits that theme quite well.
Bring out those cardboard boxes and let kids create their own special project, which can then be used to have the kids retell the story. Try making this simple
Sun, Moon and Stars Mobile
, but replace some of the stars or the sun with Mars, some Mars Men or even the Grimble Grinder.
-Amy