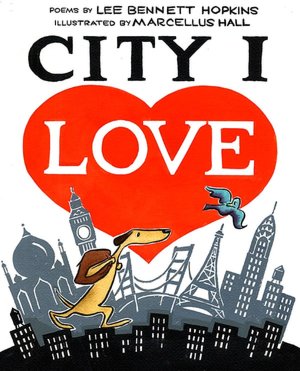 Image from BarnesandNoble.com
This collection of 18 poems takes the reader on a journey to cities around the world. With his backpack in tow a small brown dog travels the world observing as he goes. From New York to Cairo, Moscow to Rio De Janeiro, cities everywhere are celebrated:
"Sing a song of cities.
If you do,
Cities will sing back
The poems are a mix of previously published poems and new pieces by Hopkins. Some poems are short; just a few carefully chosen words convey a world of meaning. While others are longer; with phrases that sing like a repeating chorus. Alliteration and imagery are present at every corner of Hopkins cityscape of poems. The illustrations, created with brush, ink, and watercolor, underline the movement in the text with movement on the page. Hall strikes a wonderful balance between the straight lines of skyscrapers and streets with swirls and curves of music, movement, water, and people. The illustrations have a timeless quality, although there's no doubt the dog is traveling in modern times. Speaking of the dog, he seems to be the unnamed protagonist of the book, even though we never figure out why he's traveling.
Make sure to point out the map on the endpapers because it shows each of the cities featured in the illustrations. See if you can match each illustration to it's city. Pull out a map and figure out how many miles the dog has traveled between cities.
Kids who live in big cities will identify with the objects, people, and concepts in these poems quite easily, but children who live in rural or suburban settings may need more introduction and explanation. For instance, there are many kids who have never even seen a taxi, so they won't have a clue how to hail one! Other things that may need explanation include gondolas, fire hydrants (used for play, rather than for fighting fires), and subways.
Several of these poems are good candidates for a children's poetry performance. For instance, have children stand shoulder to shoulder or chair to chair as they pretend to bounce along on a subway. Break up the lines of "Subways are People" with one, two, or a few children per line. The opening and closing poems, "Sing a Song of Cities" and "City I Love" would be fun as a choral reading. Try meshing two poems with similar or juxtaposing themes alternating a line from each for a poetry performance in counterpoint. This would be fun to do with "Snow City" and City Summer."
Check out this jazzy
book trailer
for an idea of the flavor of the book.
-Amy