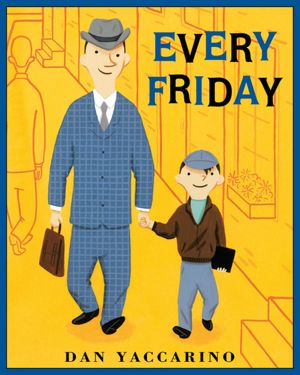 Image from BarnesandNoble.com
Friday morning is special because that's the day that rain or shine, hot or cold, this young boy and his father have breakfast together. As they walk through the streets to the diner they see the city waking up. Shops are opening and people are rushing to work. They count the dogs and mail their letters. The waitress at the diner knows exactly what to bring them (pancakes). Father and son eat and talk and watch the people outside on the street. When breakfast is over they wave goodbye to their friends at the diner, "See you next Friday!"
This uncomplicated story is told with simple and straightforward sentences, one to a page. Kids will identify with the boy's observations as he walks through the city with his father. The illustrations are sleek and have a retro 1950's feel to them. Yaccarino uses bold colors and shapes to create the busy cityscape of the book. The characters, of all ethnicities, are classic Yaccarino, with round heads and noses and black dot eyes. Check out the cool and classy
book trailer
on Yaccarino's website.
This is a great book to share one on one with your child and an especially nice Father's Day gift. Each time you read the book, point to a different person, animal, or event happening on the city streets and ask your children to describe it to you. This helps them practice fluency and vocabulary.
Create your own weekly or monthly activity with your child. Maybe it's walking to a diner for breakfast, as the boy and his father do in the book or maybe you sit at the same spot to count cars and point out the different colors. Turn off your cell phone and your laptop and take a few minutes to give your child some undivided attention.
If you have a child-friendly camera, let your kids take a picture of the same view or object every time you visit or if you walk to the location, take pictures along the way. Print the photos off so that kids can cut and paste them into a scrapbook. Help them write a sentence or two for each picture describing it and its importance. Encourage your child to read back what they've written to encourage print awareness. It's ok if they paraphrase or make it up; the importance thing for them to know is that the words on the page are words they said.
-Amy