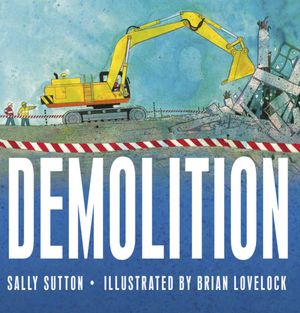 Image from BarnesandNoble.com
"Zip! Stamp! Snap!" It's time for the demolition crew to put on their protective gear and start the day. Using their machines from the heavy steel wrecking ball to the high-reach excavator the crew smashes, bashes, and slams. An old building is pulled to the ground and the rubble is taken away. Then "Bim! Bam! Thwock!" the crew sets about building a playground to be enjoyed by all, "Hip…hip…hooray!"
Sure to appeal to the truck and bulldozer crowd, the rhyming text in this book is percussive and rhythmic. Each three line rhyme is followed by three sounds that bring the atmosphere of a demolition site to life. The realistic illustrations are full of the dynamic movements of the machines as they crush and smash the building to pieces. The illustrations clearly show the function of each machine. For instance, the page with the wood chipper shows workers putting long pieces of lumber into the machine, as well as the resulting sawdust.
The machine facts included at the end of the book are sure to thrill machine-loving youngsters. Each of the machines featured in the book is pictured with a short fact-filled sentence.
As you read the book imitate the movements of each machine as you make the sound effects. You'll probably want to repeat movements so the kids can participate too.
-Amy