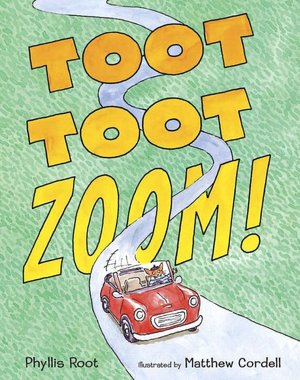 Image from BarnesandNoble.com
Pierre lived all by himself at the foot of a tall mountain and what he wanted more than anything else was a friend. So he got into his little red convertible and began driving up the mountain. At every curve he would honk his horn, "Toot toot zoom!" On his journey to find a friend on the other side of the mountain, he meets a goat, a sheep, and a bear. The animals join him in the car to help him find a friend. When they finally reach the other side there's no one there, but Pierre realizes he has found three wonderful friends along the way.
Root's text, full of sounds and repetition, is mostly dialogue, making this a great read aloud book about friendship. The watercolor and ink illustrations are sunny and light. The characters are whimsical; Pierre is a fox who wears a jaunty blue and white striped shirt and beret, while the bear sports a yellow scarf and earrings. The layout of the book is attractive; sometimes the little red car simply drives through the text, at other times the text is layered over a full page illustration.
My favorite part of this book is the frequent repetition of "Toot toot zoom!" I like to hit the horn with the heel of one hand and then jerk the wheel aside on the "zoom."
This is a fun addition to a car or transportation themed storytime. Try pairing it with
I'm Driving in my Car
(to the tune of BINGO). Use a cardboard box or set up four chairs to create a car for children to retell the story.
The large amount of dialogue in this book would make it easy to adapt into a reader's theatre script. It can be done with as few as five readers. It would also be a fun book for high schoolers to perform for a younger audience.
-Amy