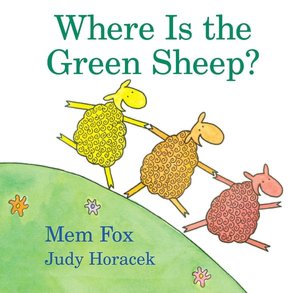 Image from BarnesandNoble.com
This colorful book is jam-packed full of sheep. It's easy to find the red sheep, the clown sheep, the up sheep and the down sheep, but where's the green sheep? Turn the pages to see the sun sheep and the rain sheep, the scared sheep and the brave sheep, but what about that green sheep? There's the green sheep. Fast asleep on the last page!
The simple rhyming text, using a vocabulary of colors and opposites, makes this a great book to read to toddlers and preschoolers. The book is structured to repeat a pattern of presenting several sheep and then asking, "But where is the green sheep?" The illustrations, with bold lines and colors, present just a sheep or two against each uncluttered background.
Each time you ask the title question, get a little more anxious and dramatic. Encourage the kids to say the question with you.
This book can easily be used for a storytime about sheep or colors, but it's also great for a storytime about the SH sound. The word, "Sheep" is found on just about every page, so the kids will hear the sound a lot. Talk about the SH sound before the book so the kids can put on their listening ears. After you read the book, make a list of other words that start with the SH sound (shell, shoe, shirt, etc.). Have the kids illustrate a SH sheep, for instance a sheep in a shirt.
Sing the first verse of
Baa Baa Black Sheep
or
Mary Had aLittle Lamb
once or twice through with the original lyrics. Then ask the kids to suggest colors and sing it again. You have to get a little creative with May Had a Little Lamb as far as what the colors look like. You could say the green sheep had fleece as green as grass or leave and that the blue sheep had fleece as blue as sky or water.
Break out those cotton balls or colored pom poms and make this
sheep craft.
There are lots of variations on this craft and I also like the
hand shaped green sheep
provided by Patton's Bookcase blog.

-Amy