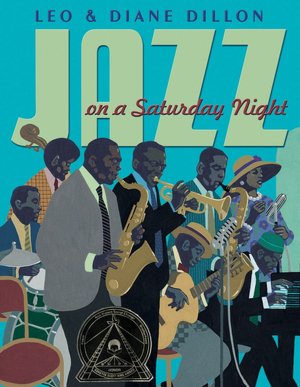 Image from BarnesandNoble.com
It's Saturday night and the musicians are setting up their instruments on the stage. The announcer steps into the spotlight and his voices booms out over the microphone proclaiming this "an evening of jazz immortality!" The audience hushes as each legendary musician adds his or her signature style to the jam. From Miles Davis to Max Roach, John Coltrane to Ella Fitzgerald the music dips, soars, and thrums with harmony and syncopation. As the audience leaves, they know they will remember all week this "outta sight" jazz, so cool, on a Saturday night.
This Coretta Scott King Honor book begins with an introduction that gives a brief history of jazz. The Dillons note that although the "Dream Team" depicted in this book never played all together, many of the musicians performed with one another at some time in their career. Each musician featured in the book is profiled in the back matter that includes a discography and a CD with two excellent tracks. The authors talk about jazz and introduce the instruments in the first track. Children are able to hear how each instrument sounds solo, as well as in a jazz arrangement. The second track is an original song, Jazz on a Saturday Night, inspired by the paintings in the book.
The illustrations, many of which look as though they've been bathed in colored stage lights, are painterly and feature an all African-American cast of characters. Blocks of color are accentuated with patterns of pinstripes, polka dots, and flowers. The monochromatic endpapers filled with musical instruments are a delight. The rhyming text, a joy to recite aloud, creates vivid musical imagery with wonderful words that thrum and pulse with syncopated rhythm. The text urges the reader to read with great feeling, sometimes loud or soft, fast or slow.
Pair this book with
The Three Swingin' Pigs
by Vicky Rubin and
Jazzy Miz Mozetta
by Brenda C. Roberts for a jazz themed story time. Provide musical instruments for the kids to play after reading the book or provide supplies to make instruments of their own. Family Corner provides instructions for
nine kid-friendly musical instruments
. If possible invite a jazz musician to visit your class or storytime. If you play an instrument bring it in and play for the children. Just be prepared for them to want to try their hand at playing too!
-Amy