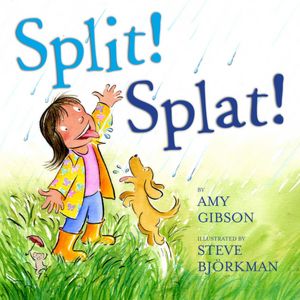 Image from BarnesandNoble.com
The rhyming text of this book follows the simple joy of a young girl as she splashes with her friends in the rain. As they stomp in puddles and sploosh through mud, the girl sings:
"I sing a little rain song,
a simple song
a plain song
a pitter-patter-tip-tap-on-the-windowpane song."
The story begins inside the girl's house as the rain begins to fall, so she puts on her rain gear and heads outside to play. As the story progresses, she flings off her hat, her boots, and her raincoat in favor of experiencing as much of the rain as possible. The girl and her dog finish the book in a bubble bath after making mud pies and having playful mud fights.
The bright pinks, greens, and blues of the watercolor illustrations evoke the freshness and joy of a spring rain and Gibson's words have a musical quality to them. It would be fun to set the text to a simple tune and to sing it during story time.
The simple plot line and liberal use of onomatopoeias make this a great candidate for a preachool story time about spring or weather. It would pair well with Patricia Lakin's
Rainy Day!
If you want to explore the water cycle, pair it with
All the Water in the World
. Save up some glass jars with metal lids and make
rain in ajar
. Sing a weather version of If You're Happy and You Know It,
If It's Windy
.
Use carpet squares or tape out puddle shapes and let the kids puddle jump after story time. Whatever material you use to make your puddles, just make sure it's not slippery.
-Amy