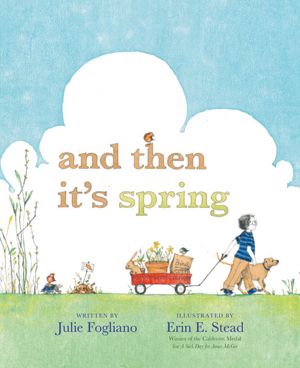 Image from BarnesandNoble.com
"First you have brown
all around you have brown"
A young, bespectacled boy looks out over a brown landscape and waits. With the help of his friends, a rabbit, a dog, and a turtle, he plants seeds into the brown earth and waits. He waits through sunshine and rain. He waits and worries about his seeds. Were they eaten by birds or disturbed by bears? The weeks pass and still he waits and all is brown. Then once day he walks out of his house and suddenly the all around brown has turned into all around green and Spring has arrived.
Fogliano's simple, poetic text is quietly complimented by Stead's delicate and detailed illustrations. The sentences seem to run on, leaving the reader in a state of quiet anticipation just like the boy in the book. I really love the different ways Stead has created clouds and sky in her illustrations. Big, puffy clouds: yes. Generically white and fluffy: no. Some of the details are very small, so this book is best read to a small group. As you read make sure to point out important details, such as the sign that the bears can't read and the roots of the seeds beginning to grow in the cross section of the yard.
Pair this book with Sarah Stewart's
The Gardener
,
The Curious Garden
by Peter Brown,
Grandpa Green
by Lane Smith, Lois Ehlert's classic
Planting a Rainbow
, or
Do You Know Which Ones Will Grow?
by Susan A. Shea. Pair it with rhymes such as,
This is My Garden
and
I Dig, Dig, Dig
. Great growing songs include,
The Green Grass Grew All Around
and
Oats, Peas, Bean,Barley Grow
(I grew up with the Raffi version, which I love, but could not find a video or recording to post here).
The boy in the book plants lots of vegetables in his garden, so follow up with some vegetable stamping.You can use quite a few vegetables and some fruits too. Choose sturdy vegetables and fruits like
okra
and carrots. Use small cookie cutters to cut stamps out of
potatoes or apples
. For
celery
and
lettuce
, cut off the top leaving the heart, which makes nice flower-like stamps. Save all the bits you don't use and make a healthy snack to eat after reading this book.
-Amy