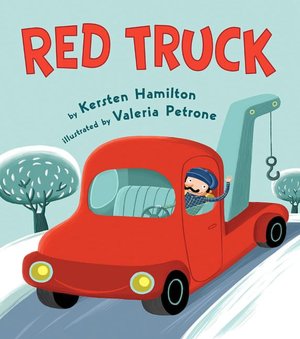 Image from BarnesandNoble.com
It's a snowy and slick wintery day and a school bus of children is stuck on a hill. The school bus driver calls up the mustachioed man, who starts up Red Truck and drives through the ice and snow to rescue the bus. A tow truck, Red Truck is able to up it up icy hills, zoooom!, and across muddy roads, sploooosh! The driver attaches the Red Truck to the bus and pulls, pulls, pulls until the bus is free of the ice and snow. The children make it to school and their "hero for a rainy day is Red Truck!"
The simple rhyming text of this book make it a good candidate for reading aloud to toddlers and preschoolers. Trucking-loving kids will love the shiny Red Truck and the sound effects interspersed in the text are fun to imitate. The painterly illustrations feature primary colored cars and trucks set against grey and backgrounds. The people are cartoonish, with skinny legs, round heads, and rectangle bodies.
Use this for a transportation or truck themed storytime. Follow up with songs and rhymes such as The
Wheels on the Bus
and
Old MacDonald had aTruck
. Have kids practice their narrative skills by retelling the story with a toy truck and a school bus. You can also use the toy cars and trucks to do some
tire track painting
.
-Amy