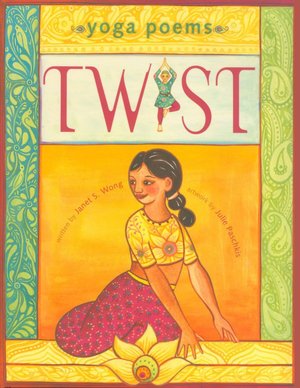 Image from BarnesandNoble.com
Each of the 16 short poems in this beautifully illustrated collection focus on a different yoga pose. Wong's words, carefully chosen, are evocative and full of imagery. Wong has created a collection of non-rhyming poems that support internal, as well as external exploration and observation. Some poems encourage readers to focus on the relationship of body parts, "head to foot to foot," while others create a story that allows the imagination to soar while posing. Some are quiet and calming, while other poems pulse with energy and passion.
The illustrations are saturated with color and decorated with intricate patterns and designs. Paschkis has created a multiracial set of characters that move through the poses with serenity and agility. Each poem is illustrated on a two page spread that includes a lively background filled with natural and man-made elements, as well as animals and people. The book does not contain how-to instructions on each pose, however the poses are well-known and instructions can be found in most basic yoga books or online.
Don't worry if you can't twist yourself into the perfect shape of each pose. In her author's note at the end of the book, Wong writes about the importance of stretching within your own abilities. As she simultaneously practiced the poses and wrote the poems, she says, "I became more comfortable with all the different things I am, especially my soft doughnut self." Stretching should feel good, never painful.
Try adding a yoga pose or two to your regular storytime and see how your group reacts. You will probably want to repeat the same one to two poses for at least two sessions, so that they become familiar before adding a new pose. Not only will this get everyone up and moving, but many of these poses cultivate balance and flexibility. Read the poem twice. First, while everyone is sitting and listening. Then teach the pose and read the poem again while everyone is engaged in the pose. Check out Yoga In My School for instructions on many of the poses in the book, as well as games and tips for using yoga with children.
If you read and practiced the poses/poems in the book from start to finish, my guess is it would take approximately 20-30 minutes. Depending on your group, this maybe a lot of fun or too much of the same thing.
If you're working with elementary school aged kids and up, this book would be a great addition, in whole or part, to a yoga program. Pair it with You are a Lion! And Other Fun Yoga Poses by Taeeun Yoo. After you practice some poses, encourage kids to write their own poems about the poses.
For more insight on the creation of this book, as well as a preview of the illustrations, check out this interview with Wong and Paschkis posted on the Blue Rose Girls blog.