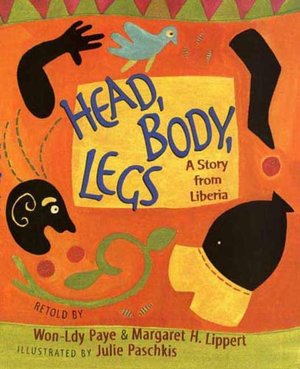 Image from BarnesandNoble.com
At first it was just Head, he rolled everywhere because he had no legs, no arms, no body. One day Head rolled into a tree ripe with cherries, but he couldn't get them because he was just a head. But then he looked up and saw two Arms, who couldn't find the cherries because they had no eyes to see. Head and Arms attached themselves together and ate every cherry. Through similar incidents, Head meets Body and Legs. Although they initially have some trouble deciding how to combine (for a while the Head is attached to Body's bellybutton), after some discussion and cooperation everyone slides into place.
This original creation story is part of the oral tradition of the Dan people of northeastern Liberia in Africa. According to the author's note this story has been told by Dan mothers and grandmothers to communicate the importance of community and cooperation, "Each part of the body is necessary and helps the others, just as each person in a family or a community is necessary and helps the others."
The text, co-authored by Paye, a trained storyteller, is at it's best when read aloud. There's a wonderful sense of rhythm to the descriptive words and phrases. The gouache illustrations are painterly, using a bright and bold color palate and large shapes. I particularly like that the body parts are glossy black instead of pink or brown or white. In this way the body parts become universal, rather than depicting just one culture or race.
Try using this American Library Association notable book as part of a human body themed storytime. Kids will laugh as the body parts try to figure out the best way to fit together. You can tell this story using a flannelboard to illustrate the different configurations of body parts during the story.
Check out the
photos of a shadow puppet retelling
of this story posted by Victoria Beatty.
I also like the Head Body Legs people that the children made after the shadow play (scroll to the bottom of Beatty's page). I couldn't find a tutorial for this exact craft, but it looks as though the body parts are cut out of thick paper and held together with brass fasteners. The fasteners make it so the body parts can still pivot, but stay attached.
I'm intrigued by the idea of incorporating yoga poses into storytime and I think this book presents the perfect opportunity. Pick poses that require cooperation from your body parts, such as the
tree
,
gate
, or
downward facing dog
poses. Each one requires you think kids to think about where their body parts are in relation to one another.
-Amy