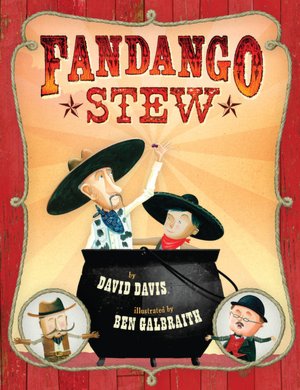 Image from BarnesandNoble.com
In this Wild West retelling of the classic Stone Soup story, Slim and his grandson, Luis, gallop into the town of Skinflint so hungry they could "eat a boiled leather boot." Too bad neither of them has any money, which means its fandango stew for supper. The sheriff tries to run them out of town, but Slim and Luis hold up a small fandango bean and tell the townspeople of the wonders of fandango stew:
"Chili's good, so is barbecue, but nothing's finer than FANDANGO STEW!"
Soon the banker is bringing salt and pepper, the lawyer brings potatoes, and even the sheriff brings vegetables straight from his garden. That night the people of Skinflint dance and sing their bellies full of wonderful fandango stew.
Davis' larger-than-life text is a joy to read aloud. Along with a vocabulary of cowboy lingo, such as "shindig," "buckaroo" and "cowpokes," Davis adds a sprinkling of Spanish words in Slim and Luis' dialogue. But Davis is not didactic; this book is a rollicking story, not a Spanish lesson in disguise. The mixed media illustrations are finely detailed and I particularly like the endpapers that look like the backs of playing cards. Like the text, the characters are slightly exaggerated in their cowboy hats, bowlers, and mustaches. In a group setting, this book is best used with preschoolers and older because of the length and large vocabulary.
Read another version of Stone Soup, such as the classic Caldecott winning
Stone Soup by Marcia Brown
,
Jon Muth's Stone Soup
set in China, or
Heather Forest's Stone Soup
. Have the kids compare the different versions. Fandango Stew emphasizes the way the stew brings together the townspeople, but some stories emphasize the foolishness or ungenerous nature of the townspeople. How have each of the authors taken the same story and focused on different issues? Make a list of the items in each versions soup or stew. Which ingredients are in all the recipes? There may be ingredients, such as okra, that not all kids are familiar with, so bring in pictures and be prepared to discuss how it's made or how/where it grows.
You could also use this for a Wild West themed storytime. Try pairing it with Anne Issac's
Dust Devil
.
Slim, Luis, and the townspeople frequently sing the praises of fandango stew using a repetitive refrain. Make up a little song of your own with these rhyming words and after a few pages, encourage the kids to sing along. You could even write the words on a board, which is helpful for parents and for children to learn print awareness.
This story is lots of fun to tell with props. Find a large pot or bowl or even a cardboard box to use as the big black kettle (check your Halloween supplies; you might be able to reuse that witch's cauldron). Try to find realia for each of the ingredients (you may want to make a larger-than-life fandango bean, otherwise it's hard to see and easy to lose). Anything you can't find, print and laminate a picture. You can put the items in yourself as you tell the story or you can pass out the items to the kids just before you tell the story. Tell them to pay attention to find out what to do with the item.
This story can be used in several storytimes in different ways, for instance, you could read it the first time from the book, tell it with props on your own the second time, have the kids help the third time, and the fourth time have the kids retell the story with the props on their own. In addition, this makes a great reader's theater script for a large group of children.
-Amy