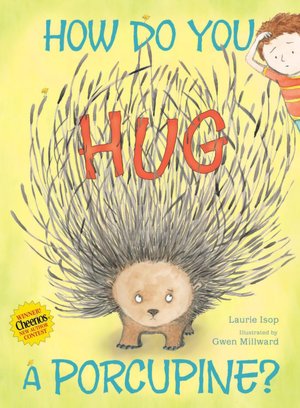 Image from BarnesandNoble.com
Most animals are easy to hug. You can hug a dog or cat in your own backyard and you might need a ladder, but hugging a giraffe is doable. Elephants like to be hugged around their trunks and baby chicks like sweet, little hugs. But how do you hug a porcupine? Why, very carefully of course!
The gently rhyming text and short sentences make this a wonderful book for a read aloud with toddlers. The bright illustrations, set against a mostly white background, feature a gang of multiracial children who just love to give hugs. The illustrations are large enough for a group storytime, but also include humorous details, such as the little boy putting marshmallows on the porcupine quills.
Pair this book with Jez Alborough's
Hug
for a hug themed storytime. It also works nicely for a Valentine's Day storytime. Read Shel Silverstein's poem,
Hug O'War
, from
Where the Sidewalk Ends
. Try this hug version of Wheels on the Bus,
A Great Big Hug
(Scroll about halfway down the page.)
Follow up with this quick and easy
paper plate porcupine craft
. I know that porcupines have brown quills, but I think it would be fun to have a couple of different color options for quills.
If you're family eats Cheerios you might recognize this book, as it won the 2009 Cheerios New Author Contest.
-Amy