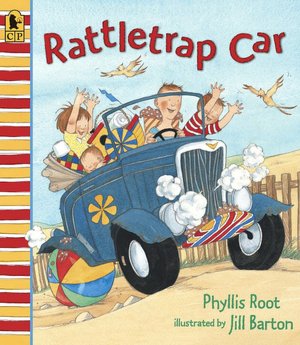 Image from BarnesandNoble.com
It's hot, hot, hot and Junie, Jakie and the baby convince Poppa to take them to the beach in their rattletrap car. They pack the car with beach toys, a thermos of razzleberry dazzleberry snazzleberry fizz and some chocolate marshmallow fudge delight. They pile in the car and Poppa starts off with a "brum brum, brum brum." But, the rattletrap car keeps breaking down. Fortunately, the family creatively uses the items they've packed in the car; the beach ball to replaces the flat tire, the thermos of berry fizz to replaces the gas tank, and more. Finally, the rattletrap car makes it to the lake with a "bing bang pop!"
The rhyming text of this jaunty book just begs to be read a loud. Each time the family fixes the car and starts it back up another set of noises is added to the "brum brum, brum brum" of the rattletrap car. Barton supports Root's whimsical world, where toy boats can replace car engines, with bright watercolor illustrations. The family lives on a farm and drives through beautiful countryside on their way to the cool and refreshing lake.
I'm a fan of singing books and the repeated "chorus" of this book is a great candidate. It also makes the words easier to remember.
Elaine Magliaro
suggests printing the words to the "chorus" on a large poster board of piece of paper so you can point to each line as you say it. Even if kids can't read, it supports print awareness and helps the adults in the room keep up.
Before you read the book, examine the cover. Ask the kids if they notice anything out of the ordinary about the car. Based on the items in the car, where do you think the family is going? The first time your read this book, tell the kids to pay attention to all the items packed into the car. Then pause when the car breaks down and ask the kids for possible solutions. The second time, ask the kids to join you on the chorus.
Make a rattletrap car snack after you read the book. Mix lemon-lime soda or ginger ale with berry juice to make razzleberry dazzleberry snazzleberry fizz and make chocolate marshmallow fudge delight by spreading Nutella on graham crackers and placing marshmallows on top.
Many thanks to Aarene who brought this book to my attention and who pointed out that it would pair perfectly with
How Will We Get to the Beach?
Follow it up with the song,
I'm a Little Pile of Tin
, which has a rattletrap car worthy sound-filled chorus. I also love
Take Me for a Ride
. Watch the short video to see how to incorporate sign language into the song.
-Amy