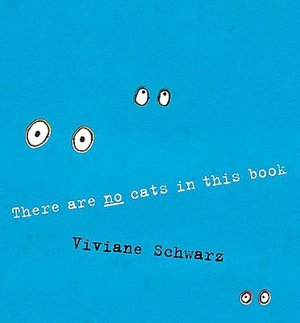 Image from BarnesandNoble.com
This is a book without a single cat in it. Well, if you don't count the three cats who are packing their things to leave to see the world. After they leave there won't be any cats in this book. It takes a few tries for the cats to figure out how to get out of the pages, but finally the cats are off. Don't worry, they'll send a postcard and when they get back, they'll bring a surprise!
This follow up to Schwarz's book,
There are Cats in ThisBook
, stands up very well alone. The loose brush and ink illustrations feature a trio of cats, each on a different primary color, set against an ivory background. Schwarz's book design, complete with a flap and a pop up, is delightfully surprising. The text is presented in speech bubbles and speaks directly to the reader. Check out
Schwarz's website
, where you can see the pages and listen to Schwarz read the book.
Reading this book aloud is fun because the book becomes more like a game. How will the cats get out of the book? Can you help them? Wish very, very hard. Wish wish wish wish wish. The postcard that the cats send back is rather small. You might want to make a larger one and let the kids pass it around.
Use this as the snappy wrap up to a cat themed storytime. It would be fun to pair this with
My Cat, The Silliest Cat in the World
. Use a rhyme like Sue Stainton's
I Love Cats
(a cat version of Head, Shoulders, Knees, and Toes) or the song,
I Know a Cat
, to the tune of Bingo (scroll down a bit to the rhyme section).
-Amy