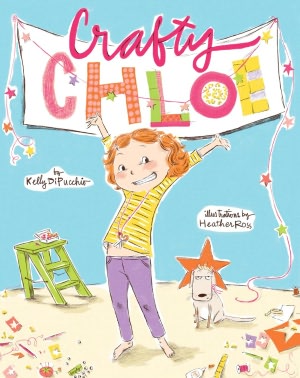 Image from BarnesandNoble.com
Chloe may not be very good at sports or ballet, but she's a natural when it comes to making things. She makes coffee filter flowers and is a glue gun pro, but what she really excels at is making clothes. Her dog, Bert, is a very good clothes model. One day, Chloe is shopping for her best friend Emma's birthday. She finds the perfect gift, a brand new doll, but just as she's about to buy the doll, another friend of Emma's swoops in and takes the prize. Chloe is embarrassed, so she mumbles something about making Emma a gift, something so special you can't buy even buy it. How will Chloe use her crafting skills to make a gift special enough for her very best friend?
Geared toward elementary school aged girls, the humorous illustrations use a trendy color palate of purples, pinks, yellows, and blues. Chloe's outfits create a character who clearly likes to express herself through her crafts and clothes; I love her star print leggings and polka dotted cardigans. The text is conversational and full of great vocabulary stretching words, like "spectacular" and "admired."
This would also appeal to kids who have mastered basic reading skills, but aren't quite ready for longer chapter books. Kids who love reading about Junie B. Jones, Katie Kazoo, Clementine, and Amber Brown will find a kindred spirit in Chloe.
Read this story before having a craft day for elementary school kids. You can try some of the crafts inspired by this book and posed on the
Crafty Chloe Blog
by DiPucchio and Ross. Other crafts mentioned in the book include
coffee filter flowers
and macaroni necklaces. There's also an illustration of Chloe painting a paper doll, so have kids design clothes for a Chloe paper doll. The picture of Chloe on the cover would be an easy one to scan or trace. Bring in scrap paper, light weight fabrics, small buttons, and other notions to make clothes.
-Amy