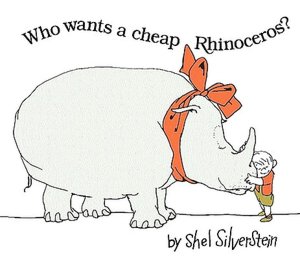 Image from BarnesandNoble.com
Are you looking for something new when it comes to pets? Done with goldfish, dogs, and cats? Well, how about a rhinoceros? Not only is he cheap, but he's so helpful around the house! He's an excellent coat hanger and he'll help your granny make donuts. He'll back you up when you want extra allowance and he's great at intimidating a shark at the beach. Best of all, he's easy to love.
The black and white pen and ink illustrations are hilarious and imaginative. Much like a classic boy-and-his-dog story, the friendship between boy and rhinoceros is what makes this book special. The humorous illustrations alternate between supporting and juxtaposing the deadpan text. Click on the thumbnail of this book on
Silverstein's website
to see an animated preview of the book.
Have a Shel Silverstein storytime and pair this book with
Giraffe and a Half
. Both books involve child-animal friends and are appropriate for a preschool audience.
Although Silverstein's text doesn't rhyme, it is poem-like in nature. Make it into a reader's theater/poetry reading for a group of children. Have the kids decide which lines are most important and then have more children speak those lines or alternately go from everyone speaking to one child saying those lines. Either way will add emphasis to those highlighted lines, which adds a wonderful layer to the performance.
-Amy