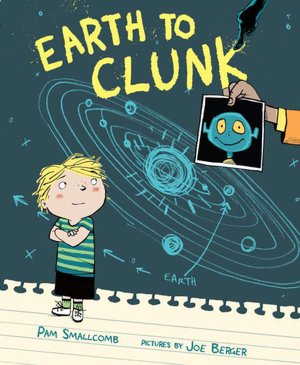 Image from BarnesandNoble.com
In elementary school most kids are assigned a pen pal from another city, state, or country, but the boy in this book is very unhappy to learn his pen pal is Clunk, an alien from the planet Quazar. The boy sends a series of disgusting packages, hoping that a pile of dirty socks or his big sister will stop Clunk from being his pen pal. Clunk replies with equally repulsive packages until one day when the boy receives nothing and is surprised to find that he actually misses the packages from his intergalactic pen pal.
There aren't many picture books that count as science fiction, but this one definitely fits the bill. There's a deadpan sense of humor in the text and illustrations, with each element carrying an equal number of punch lines. Boys will love the disgusting items the little straw haired boy with the mischievous smile puts in the mail. The illustrations use bright colors, especially orange, green, and blue, to create a layout that is part scrapbook, part home movie, and part letter.
This book will appeal to elementary school kids who have had or are being assigned a pen pal. After you read the book, ask the kids if they think the boy actually wants Clunk to stop sending him mail. You can also ask them what things they would send to an alien pen pal. Have each child write a letter to Clunk, describing the items they would include.
Use this book for an alien, space, or planet themed storytime. See if children can name the planets in our solar system (hint: Quazar isn't one of them). This is a wonderful time to bring out some non-fiction books about these topics for kids to browse. Follow up by participating in research, such as
Rock Around the World.
This great program is sponsored by NASA and asks kids from around the world to send in a rock so it can be tested and compared to rocks from Mars.
-Amy