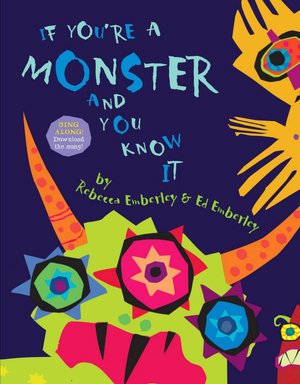 Image from BarnesandNoble.com
Are you a monster? Well then, sing it loud and proud! Smack your claws and wiggle your warts along with the outrageously neon colored monsters in this rollicking version of If You're Happy and You Know It. By the end of the book you'll find yourself snorting and growling with the best of them.
Ed Emberley teamed up with his daughter Rebecca to create a book full of slightly scary, but mostly silly, dancing monsters. The digital illustrations show brightly colored monsters with tentacles, tails, crazy eyes, and big teeth, which are set off against a glossy black background. The text follows the structure of the classic song. At the end of the book, the reader is challenged to do all the monster actions one after the other, which is sure to get every wiggling and giggling.
Pair this book with
Frank Was a Monster Who Wanted to Dance
for a monster or Halloween storytime. The monster feet crafts I posted for that book would work well for this book too. Dress up like a monster, which makes this book more fun to perform. Hand out scarves for kids to tie around their waist or tuck into the back of their pants so they have tails to twitch. Check out the wonderful monster rhymes and songs on
Virtual Vine
. I particularly like You Are My Monster (to the tune of You Are My Sunshine) and Monsters Galore.
You can also listen to Rebecca's songwriter daughter,
Adrian, sing the song
on the Scholastic website. The tune is slightly different than I sing it, so I would probably just sing it on my own, but the sound effects are fun. After you've done this song at a few storytimes, try giving each child a different noise maker and assigning them a specific action from the book (if you have a big group, assign two or three kids to each action). During the last verse they'll have to listen very hard to figure out when to make their noise. This works best with kids in preschool or older.
-Amy