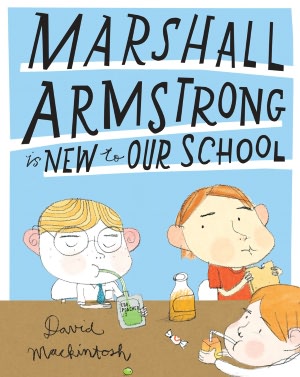 Image from BarnesandNoble.com
Marshall Armstrong is the new kid at school and his desk mate, the boy narrator of this book, thinks he's different. Marshall Armstrong eats "space food" at lunch. He reads during recess because his doctor says he can't play. Marshall Armstrong doesn't even have a TV at home, instead he prefers to read the newspaper. But everything changes when the class is invited to Marshall Armstrong's birthday party. Marshall Armstrong turns out to be a great new kid, even if he's different from the rest of the class.
The artwork grabbed me from page one with stunning layouts and humorous juxtapositions. Marshall Armstrong is a delightfully unique fellow, showing up to the first day of class in a straw boater and a striped blazer. Mackintosh blends traditional and digital techniques; the characters look hand drawn, but their world is accented by college and found object elements. The text is humorous as well and I especially love the wonderful descriptive phrases: "Marshall Armstrong's ear looks like a shell. His hair reminds me of driving in the countryside to visit Grandma." The text and illustrations support one another very well and each heightens the descriptive power of the other.
The humorous elements of this story make it a fun one for storytime, although the illustrations are fairly detailed, so you may want to reserve this for small groups. Throw your own birthday party for Marshall Armstrong. There's a great two page spread that includes many of the birthday activities that would be easy to recreate, such as playing hide-and-seek, running an obstacle course, drinking lemonade, and breaking open a piñata. If you feel like getting messy, make your own
paper mache piñatas
.
If you're using this in a classroom setting, ask the kids to help plan the events of the party. What other kinds of games or activities do they think Marshall Armstrong would want at his party and why. If you can't actually have a party, have the kids get together in groups to design their ideal party. Have them make a menu, a list of activities, and include sample decorations and illustrations.
This a good book to read if your child is the new kid in school or if their class has recently had a new addition. Talk about how Marshall Armstrong is different from his class, but also point out that his differences turned out to lead to exciting new experiences.
For more ideas and resources, check out the
reader's guide
written by Christine Sarandis and published by HarperCollins.
-Amy