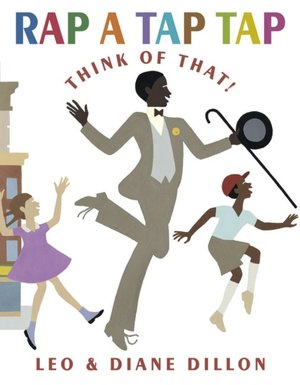 Image from BarnesandNoble.com
Moving his feet with furious speed and impeccable rhythm, Bill "Bojangles" Robinson taps his way through this colorful book. He dances for everyone, from the fancy folks in top hat and tails to the down and out people living in the skids. He dances his way to fame on the stage, "Bojangles, Bojangles, that was his name. Rap a tap tap – think of that!"
Winner of the Coretta Scott King Award for Illustrators, this book is a wonderful introduction to a legendary entertainer.
Bill"Bojangles" Robinson
(1878-1949) rose to fame in during the Great Depression. He danced in clubs, on Broadway, and in movies, most notably with Shirley Temple. In the afterward, the Dillons share brief historical information about this charismatic and generous dancer.
The gouache and acrylic illustrations are boldly stylized. The boxy buildings and round topped cars create a landscape that depicts New York City during the Great Depression, yet there's a timeless quality to these cityscapes. Bojangles, dressed in a snazzy brown suit, dances through the streets, his legs and feet a blur of movement. Racial inequality is addressed subtly through illustrations and text. For instance, the text of one page reads, "He danced past doors; some were open, some closed." The rhyming text reads like a poem and kids will pick up on the frequently repeated, "Rap a tap tap – think of that!"
This book can be used for a storytime on dancing in general, or you can get more specific and create a tap dancing storytime. This book works well paired with
Song and Dance Man
, as each book celebrates great forms of entertainment popular in the early 20
th
century.
Before you read the book, briefly explain that Bojangles was a real person and very famous in his day. Show clips of Bojangles dancing after reading the book. The Dillon's write in their afterward that people often said, "He talked with his feet." In addition to watching the clips, listen to the way his rhythmic taps add to the musical accompaniment. Watch this solo performance of his
classic step dance
. The film is grainy, but the taps are clean and clear.
Kids will enjoy watching Bojangles dance with Shirley Temple. A few of my favorite clips are
the step dance
from The Little Colonel (skip to 2:15 if you just want to watch the two of them dance together),
the solider dance
from Rebecca of Sunnybrook Farm (skip to 1:00 for the dancing), and
This is a Happy Little Ditty
from Just Around the Corner (skip to 1:25 for Bill Robinson's entrance). I have chosen clips that focus on Robinson's artistry as a dancer/entertainer, with the least amount of racial stereotyping, however it is important to note that these films were made in the 1930's when African-Americans were still confined to stereotypical roles, such as servants. If you're reading this book with older elementary school kids, this book provides a way to begin a discussion on racial inequality.
If you're reading this at home or with a small group of children, try making a
homemade pair of tap shoes
. I like the Disney Family Fun version because it's just two washers and some elastic. Just make sure you only wear them on a surface that can take some abuse!
For more information on why the Dillon's choose to write/illustrate a picture book about Bill Robinson, check out the
Author's Note
on Scholastic.com.
-Amy