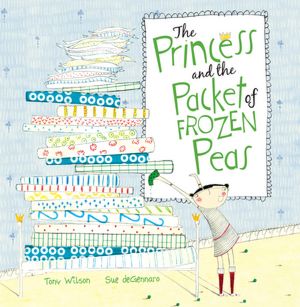 Image from BarnesandNoble.com
Henrik was a prince who wanted to fall love and marry a princess who liked hockey and camping, just like he did. He wasn't sure how to find such a princess, so he asked his brother, Prince Hans, for advice. Hans suggested using the same test he used when he found his wife, Princess Eva: place a single pea under a stack of mattresses to test for sensitivity. But after Henrik observed fussy Princess Eva, he decided he wanted the exact opposite! So instead of twenty mattresses, he found a thin camping mattress and instead of a single pea he used a whole packet of frozen peas. Did Henrik's test work and what happens when his best friend Pippa comes to visit?
I love stories about unconventional royalty, so this book tickles my fancy. Henrik is a sweet and thoughtful prince and Pippa is cheerfully resourceful. The detailed illustrations are humorous and child-like. A combination of color pencil work and collage elements, deGennaro's drawings are at their best when showing the relationships between characters. I also love the wardrobe she picked out for the characters, especially prissy Princess Eva. The text is an even mix of narrative and dialogue written in third person. Wilson is very playful with his text, changing fonts to highlight important words and allowing the text to flow around illustrated elements.
Compare this book to a more traditional version of Hans Christian Anderson's the Princess and the Pea and then have the kids compare and contrast. Try the version
retold by John Cech and illustrated by Bernhard Oberdieck
or
Maja Dusikova's version
that was originally written in German. I also like the colorful illustrations in
Rachel Isadora's version
, which is set in Africa. How are the princesses and princes different in each book? Make a list of adjectives for each princess and compare. Math-wise, compare the number of mattresses used in each story. Which prince used the most mattresses?
Pair this with
Princess Knight
and
The Paper Bag Princess
for a girl power princess storytime. The maids in the book are constantly cleaning up stray peas, so follow up with a game of Clean up the Peas. Hide tennis balls, green bean bags, or any other green round object around the yard, house, or library and have the kids find them. You could also modify the classic
water balloon toss
and use the green balls instead.
This book also makes an excellent reader's theater candidate. I wasn't able to find a script anywhere on the internet, but the dialogue and narrative would make it pretty easy to adapt.
-Amy