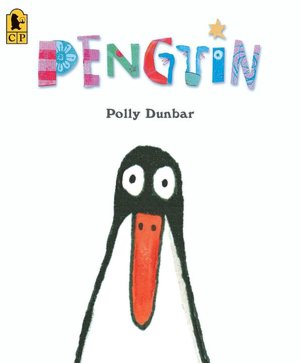 Image from BarnesandNoble.com
For his birthday Ben got Penguin. "Hello, Penguin!" said Ben. Penguin said nothing. Ben was determined to get Penguin to speak, so he tickled and danced and stood on his head. Penguin said nothing. Ben put Penguin on a rocket and shot him to outer space, but Penguin came back to earth as silent as before. Finally, Ben tried to feed Penguin to a passing blue lion. Unfortunately, the lion decided to eat Ben because he was being so noisy. But Penguin came to Ben's rescue. And then Penguin spoke to Ben, a long monologue of images. And Ben was happy.
The text of this charming book is simple and punctuated by the frequent refrain, "Penguin said nothing." The blue lion seems to come out of nowhere, but I tend to think that this story has been created by Ben as he plays with his toys and that the lion is another toy. The mixed media illustrations place the characters against blank white pages, bringing the focus onto the interaction between Ben and Penguin. Ben is a lively little toddler, his round tummy sticking out slightly from his bright green pajamas, and Dunbar is able to show the full range of his toddler behaviors, from making faces to yelling until he's red in the face.
If you looking for another reason to feature this book, try using it for a storytime about the letter P. Follow up with this
P for Penguin craft
(scroll to the bottom of the page).
-Amy