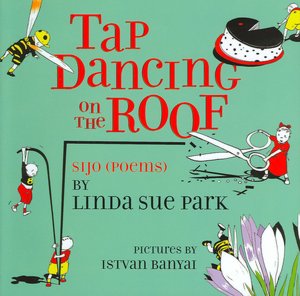 Image from BarnesandNoble.com
Today, in addition to posting my usual book review, I'd like to share the reader's guide I recently created for Tap Dancing on the Roof: Sijo (Poems) for my graduate course on children's and young adult literature.
This collection includes 28 sijo poems written by Linda Sue Park and illustrated by Istvan Banyai. A traditional Korean poetic form, in English sijo are made up of three lines. The first line introduces the topic, the second reveals more information, and the last line contains a twist using humor, irony, imagery, or wordplay.
Park's clean, sharp style is evident in her nimble and clever choice of words and imagery. Her poems speak directly to the reader, and focus on revealing unexpected aspects of familiar topics, such as breakfast, school, nature, sports, and chores. Banyai's understated illustrations, in a muted, inky palate, are sketch-like riffs on the poems and serve to provide context without resorting to literal interpretations. Information about writing your own sijo, as well as the history and definition of the form, is provided in an introduction and an author's note.
I enjoy creating activities and discussion questions to extend books beyond the page and this project definitely gave me the opportunity to brainstorm these types of activities. In my research for this project I found that this book is unique because it's one of only two collections of sijo written especially for youth. I also highly recommend Linda Sue Park's personal website. She writes candidly about her process, finding inspiration, and writing.
I hope this reader's guide inspires you to read and share a poem.