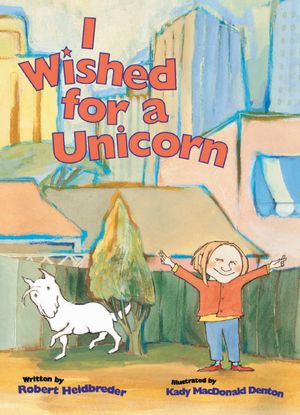 Image from BarnesandNoble.com
"I wished for a unicorn.
I wished so hard
That I found a unicorn
In my backyard."
A little girl makes this wish and is delighted to find that it come trues! So what if the unicorn wags his tail, digs for bones, and howls instead of neighs? The unicorn leads the girl into a magical wood and their adventures begin. They cross a moat to a golden castle, zap a fierce dragon, shrink an evil wizard, and dig for buried treasure. After such a strenuous adventure, the girl and her unicorn fall fast asleep. When the girl wakes up, she finds herself in the backyard again. The unicorn is gone, leaving only her dog. But the girl is sure that tomorrow when she goes out to play, she'll wish for and find a unicorn again.
The illustrations in this rip-roaring adventure combine pen and ink with painterly techniques. The sundrenched colors are blended together creating a great sense of depth and texture in the whimsical drawings. I will say that it's difficult to tell if the protagonist is meant to be a girl or a boy, but in a way I like the ambiguity because it allows kids to imagine whichever gender they prefer. The rhyming text is a lot of fun to read aloud with lots of descriptive phrases that are fun to play with, "thunderous roar," "danger lurked," "crumpled and old." Even though the two friends go on quite a few adventures, the text keeps the story moving along at a quick pace.
When you reach the part in the book when the girl describes the unicorn, stop and ask the kids if they think the animal is a unicorn. If they don't, ask them what animal they think it is. After you read the book, ask the kids what type of animal they would wish to have. Turn the first few lines of the book into a chant by modifying the words to fit each child:
Sam wished for a kangaroo, a kangaroo, a kangaroo
He wished so hard
That he found a kangaroo, a kangaroo, a kangaroo
In his backyard.
Use this book for a storytime about unicorns to balance out all those glitter and princess filled unicorn books. This story may have a unicorn character, but it's first and foremost a story of imagination and adventure.
Pair it with the song,
A Lovely Unicorn
, or the rhyme,
Five Little Unicorns
.
-Amy