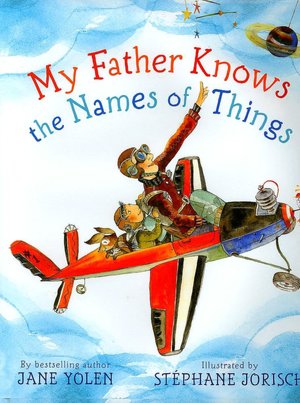 Image from BarnesandNoble.com
The boy in this book has the best father. He knows the names of things, from dogs and planets, clouds and cats, to seven words that all mean blue and which dinosaurs are the meanest. And as father and son explore the world, "He points out everything we see / And teaches all the names to me."
The text in this book is short and sweet, with just a hint of rhyming to keep things rolling. Yolen has chosen her words with care, so that there's not syllable out of place. The illustrations, done in ink and watercolor, follow the boy and his father all over the world, from snorkeling under the sea to flying through the clouds in an airplane. The imaginative illustrations show the wonder of discovering and exploring the world.
I found this book because I realized that Father's Day is coming up and I haven't reviewed very many books about great dads. Books about mothers are plentiful, but good books about dads are fewer and farther between. I like this book in particular because it says more than, "My dad is great." The dad in this book is not only loving, but also very smart and eager to share his knowledge with his son.
Use this for a Father's Day storytime. Follow up with the song,
My Old Man's a Sailor
(
Lyrics here
). Sing it through multiple times substituting the occupations of the kids in the room. The longer the job title, the more fun it is to try to squeeze all the syllables into the song.
As you read the book, ask the kids to name things like the father in the book does. How many words for blue can you name? Name some different kinds of cheeses, clouds, and human bones.
-Amy