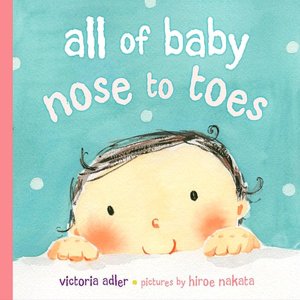 Image from BarnesandNoble.com
This bright and cheerful rhyming book celebrates Baby, from her bright little eyes down to her ten teeny-tiny toes. Each 2 page spread introduces a new body part, sings the praises of Baby's "caper and prance legs" and "round as pies eyes," and then asks a question, "Who loves baby's eyes?" By the end of the book, everyone agrees that this sweet baby is, "Good enough to eat baby. Sweep me off my feet baby."
The rhythm of this joyful book will keep youngsters entertained. The pages are filled to the brim with a laughing, curious baby who is exploring her world. The watercolor illustrations are dynamic and full of the fun movements of the baby.
If you're reading this to a lapsit group, make sure everyone takes the time to point out their baby's eyes, ears, and so on. If you've got a group of movers and shakers, tie each body part to a different action. For instance, wiggle your toes when Baby's toes are mentioned and drum on your tummy with Baby. If you're reading this at home, try reading it in front of the bathroom mirror so that you can point out body parts together.
Print out pictures of eyes, ears, noses, and mouths and laminate them. Let the kids mix and match to make different faces. If you have toddlers, have them help you sort them into piles of eyes, ears, etc.
-Amy