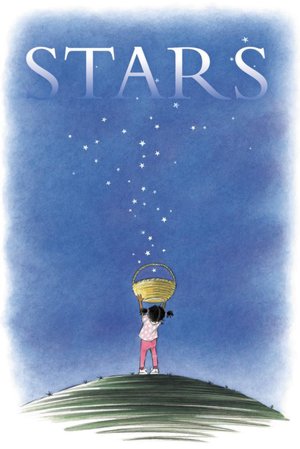 Image from BarnesandNoble.com
This beautiful oblong book explores the beauty and versatility of stars. There are the stars you see in the night sky. Stars you cut out of paper and keep in your pocket, because sometimes "you need to know it is there." There's that special day marked on the calendar with a star. Some days you'll feel as shiny as a star, but other days you might need to reach for that paper one in your pocket. But the best way to see the stars is to find a place where the night is very dark. Look up and you'll almost always find one. And another. And another. "Every night. Everywhere."
Ray's text is poetic and yet detailed enough to convey the imaginative ideas to even the youngest readers, but she never talks down to her readers. As always, Frazee's illustrations are populated by a multicultural cast of characters (see also
Everywhere Babies
and
All the World
).
Like the text, the illustrations are grounded in reality, yet magical possibilities lurk on every page:
"If you hold a wand the right way,
You might see a wish come true.
Not always.
Only sometimes.
You never know about a wish."
Use this book as part of a storytime about shapes. After you read the book, ask the kids what else they would do with a star. Where else have they seen star shapes? Bring in photographs of signs, buildings, etc. that use star shapes in their design.
After you read the book have kids trace and cut out stars. If you have preschool and kindergarten aged kids, teach them to make a
"one-cut" star
. You can tape them to a string and make a star garland, tape them to sticks to make wands, use some drinking straws and yarn and make a
cascade of stars
, or pull out those
popsicle sticks
. Check out the
Castle Library blog
for even more activities.
-Amy