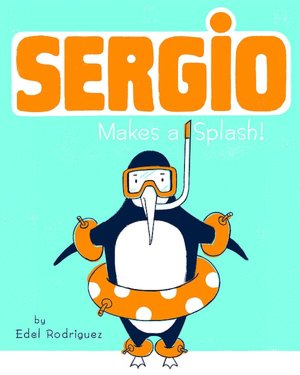 Image from BarnesandNoble.com
Sergio is a penguin from Argentina, way down by the South Pole. He likes a lot of things, but the three things he loves the most are soccer, fishies, and water. He loves water in all forms, from puddles to rain to ice, because it makes him feel so many emotions, happy, silly, playful, relaxed, which of course, make him thirsty for a glass of water! But as much as Sergio loves water, he's also afraid of it because he can't swim. He's terrified on the first day of school when his class goes for a field trip to ocean to learn to swim. His teacher reminds him that the ocean is like a bath or a puddle, just bigger, "And you know those little fishes you love so much? Where do you think they come from?" Through much coaxing by his teacher and classmates, and reassuring himself that his life preserver, snorkel, and floaties will help, Sergio is finally able to jump into the water. And what do you think? He loves it, of course!
The eye-catching illustrations were done with oil-based woodblock ink, printed on paper, and combined with digital media. Rodriguez uses only four colors (white, black, orange, and blue) to create Sergio's watery world and the results are magnificent. The color palate frees, rather than limits, Rodriguez to give equal weight to the composition and layout of each page. The text is short and easy to read. Speech bubbles are frequently used, which adds an element of fun.
Pair it with other books about starting a new class, such as
Wemberly Worried
. Read this is book to your child before they start swim lessons. Ask them about their concerns about swimming and water. Talk about people you know who like to swim and the reasons they think it's so much fun.
Pair the book with penguin rhymes, such as
Five Perky Penguins
. Check out the penguin craft in my post on
Tacky the Penguin
. Modify the design by making floaties instead of Hawaiian shirts for your penguins.
-Amy