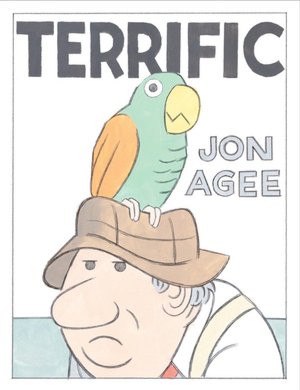 Image from BarnesandNoble.com
Eugene is the lucky winner of a trip cruise to Bermuda, "Terrific, I'll probably get a really nasty sunburn." He doesn't quite make it to Bermuda because his ship sinks and he's the only person who is not rescued. He washes up on a tiny island that's completely uninhibited, except for a talking parrot that is also stuck on the island because of a hurt wing. The parrot convinces Eugene to build a boat, "Terrific, I'm going to permanently damage my lower back." Their adventures together continue as they are saved by a fishing trawler, Eugene discovers the parrots name, and the pair finally make it to Bermuda! Terrific!
The text of this American Library Association Notable Children's Book is simple and kids will enjoy the perpetually pessimistic Eugene. The repeated use of the word, "Terrific," in an ironic manner will delight kids. The silly story doesn't have a moral; it's really driven by the friendship between grumpy Eugene and the parrot. The illustrations are very well laid out; simple, yet visually interesting. The sun-drenched color palate is spot on for this ship-wrecked story.
Before you read the book, ask the kids what the word, "Teriffic," means. (By the way, this is a great book for a storytime about the letter T). After reading the book, ask the kids what they think Eugene and the parrot will do now that they've finally made it to Bermuda. Will Eugene go back to his normal life in Dismal, North Dakota? Will he have more adventures with the parrot?
Activity-wise, I like
Progress Class KidsREAD Resource Blog's
suggestion of splitting kids into small groups. Each group chooses five random objects and then they must explain how each object helped Eugene and the parrot escape the island.
I was thrilled and amused to find that the book had been turned into a
song with music by the Promise Makers
(clicking the link will download the song onto your computer. I was able to play it in iTunes). You might also recognize this book because it was featured on the PBS Kids show,
Reading Between the Lions
.
Jon Agee is one of my favorite children's book writers/illustrators because the plots of his books are so unexpected and often very silly. If you like this book, check out the other Agee books I've featured on my blog,
Milo's Hat Trick
and
Mr. Putney's Quacking Dog
.
-Amy