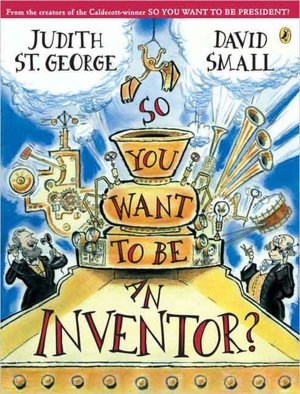 Image from BarnesandNoble.com
This beautifully illustrated non-fiction picture book outlines the inventions of over 40 inventors, from Gutenberg's printing press to Igor Sikorsky's helicopter. Each two page spread begins with a statement about inventing, such as "If you want to be an inventor, keep your eyes open!" and "If you want to be an inventor, find a need and fill it." The text does on to outline the successes, and sometimes failures, of inventors who embody the statement.
The book is rather long, 48 pages plus biographical notes and a bibliography, so it is best read aloud to older elementary school kids (grades 2-5). If you'd like to share it with a younger audience, I suggest reading a page or two each day to spread it out over a few weeks. The illustrations were done with ink, watercolor, and pastel chalk. Small has done a wonderful job of drawing the inventors so that they are easily recognizable, yet his loose and whimsical style is always present.
Some of the inventions that the text mentions are shown in the illustrations, such as Eli Whitney's cotton gin, but others are only mentioned in passing. Find photos of those inventions not illustrated and show them to the kids either during or after reading the book. You can even bring in some of the real items in for the day, such as Velcro or a library stepstool. It can be fun to compare the original invention to it's current model, such as different kinds of light bulbs or telephones.
After you read the book, ask kids to draw a picture and write a description of their own invention. If this seems daunting, have them work in groups to brain storm ideas.
-Amy