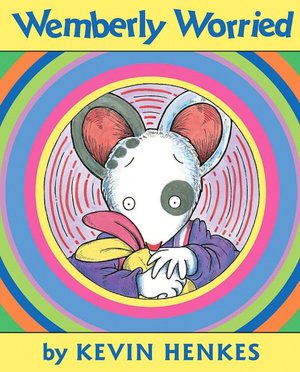 Image from BarnesandNoble.com
Wemberly worried about everything. She worried about big things and little things morning, noon, and night. Her parents told her not to worry, but it never helped. When Wemberly was especially worried, she rubbed the ears on her doll, Petal. She was even worried that if she worried too much Petal's ears would disappear. Soon Wemberly had a new worry: School. Her list of school related worries was a mile long: What if the teacher is mean? What if I can't find the bathroom? What if they make fun of my name? On the first day of school, Wemberly was petrified, but then her teacher introduces her to Jewel, who was also wearing stripes and carrying a doll. First, the dolls became friends, and then the girls, who played together all day. Wemberly still worried, but no more than usual and sometimes even less. At the end of the day, her teacher said, "Come back to tomorrow!" "I will. Don't worry," said Wemberly.
Once again, Henkes has created an endearing mouse protagonist who is learning how to navigate the world (see also
Chrysanthemum
and
Shelia Rae, the Brave
). Wemberly, with her white fur and grey spots, is a wide-eyed worrier. The illustrations are colorful and fully support the conversational text. The book is linear and can be thought of in two parts. First, we learn about Wemberly's every day worries and then the new worry, school, is introduced and we see how Wemberly deals with her worries in this new environment.
This is a wonderful story for a preschool or kindergarten child who is a constant worrier because it's reassuring to know they aren't the only one who worries. Before you read the book, ask the kids what they worry about. You can extend this into a craft activity, check out
Mrs. T'sFirst Grade Class blog
. After you read the book, ask them why Wemberly worried a little bit less when she was playing with Jewel at school. You can also ask them what they would do to help Wemberly worry less.
Pair this book with
Little Mouse's Big Book of Fears
for a storytime about fears and worries. The alliteration in the title also makes this a good choice for a W themed storytime. Ask the kids to think of other things that start with the letter W that Wemberly might worry about.
-Amy