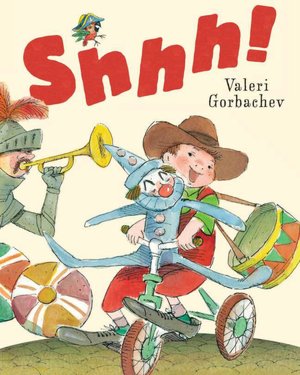 Image from BarnesandNoble.com
When his baby brother is asleep, this older brother is as quiet as can be. Not only does he walk on tippy-toes, he makes sure everyone else keeps silent as well. He stops the clown from laughing, the tiger from growling, and the pirates from firing their booming cannons. But when his brother awakes the boy makes his toy clown laugh again, he growls with his stuffed tiger, and the pirates fire loud cannon balls into the bathtub! Noisy play reigns until baby brother goes back to sleep again.
This story of a boy who lovingly watches over his younger brother is filled with detailed illustrations rendered in pen and ink and colored with soft watercolor washes. The text is minimal, with the frequently repeated, "Shhh!" I love the pages that show the boy, an endearing toddler in red overalls and wide-brimmed hat, telling the various toys that have come to life in his imagination to be quiet, "Shhh!"
This book works well for a variety of storytime themes including becoming an older sibling, sounds, or even manners, as the little boy begins each request with a "please." You can have the kids help you with each "Shhh!" and after you read the book ask the kids how they take care of their siblings, whether younger or older.
-Amy