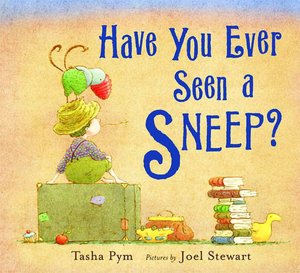 Image from BarnesandNoble.com
A small boy sets out to enjoy a picnic in a splendid spot, but when he turns his back a Sneep runs off with his entire lunch! Using a series of questions the boy introduces the reader to a cast of pesky creatures, from the bothersome Snook to the long-armed Knoo. After each question he's surprised to learn that the reader has never been surprised by a springing Floon or landed in a swimming Grullock's throat. He considers these facts seriously and then packs his bags because he's coming to live with you!
The illustrations set the whimsical creatures in a misty forest-like environment. I grew up with the book
Mr. Rabbit and the Lovely Present
by Charlotte Zolotow with illustrations by Maurice Sendak and the soft focus of Stewart's drawings immediately brought to mind this childhood favorite. I also like that the creatures are unique and imaginative, but never scary or malevolent.
The rhyming text speaks directly to the reader and is presented almost entirely in the form of questions, making this a fun read aloud for storytime. The short, humorous text works well as a stand alone poem and can be read to kids without the pictures.
After you read the book, ask the kids to create their own imaginary character with a fun name, like Knoo or Grullock. Have them draw a picture of it and answer a few questions about it's habits. For instance, what does it eat? Where does it live? What does it do for fun?
You can also use this book as an excuse to sing some songs with nonsense words. Check out the song suggestions on my previous post for
How Do You Wokka-Wokka?
-Amy